Mall Santa fired for being naughty, not nice
Mall Santa fired from his job at The Maine Mall after parents reported that he was rude and grumpy. Santa was fired after a local TV station aired a story and parents posted complaints about him on Facebook.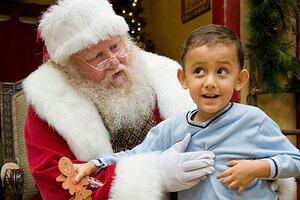 (AP Photo/The Orange County Register, Mindy Schauer)
A mall in Maine has sacked Santa Claus after children and parents complained he was rude, grumpy and wouldn't even let one child sit on his lap.
Officials at the Maine Mall in South Portland say they're looking for a jollier Santa and hope to have him in place Thursday.
Jessica Mailhiot and her 6-year-old daughter, Chantel, went to see Santa this week. They tell WGME-TV that he was rude and wouldn't let the girl sit on his lap when they said they didn't want to buy a $20 photo.
Chantel says when she asked Santa for an American Girl doll, he replied she'd get an "American football."
RECOMMENDED: How much do you know about Christmas traditions? Take the quiz
When the mom posted her story online, others shared similar experiences on "The Maine Mall" Facebook page.
"Got to tell you just got home from the mall and had the worst experience in 10 years with Santa today my youngest was scared to death and he wouldn't even talk to her. This was something my 2 oldest kids always looked forward to and having pictures to remember it by," wrote Stacey Knight.
"If any of you have little ones DON'T bring them to see Santa at The Maine Mall. One mom and her little girl came all the way just to see him, but because they had no money for pictures she was not allowed to say hi and put his hands across his lap so she couldn't even sit on him. The little girl was heartbroken. I understand money issues and
---