Stocks fall as McDonald's drags Dow lower
Stocks fell Wednesday as the Dow was hit by a drop in McDonald's stock price. Other fast-food stocks also fell on Wall Street.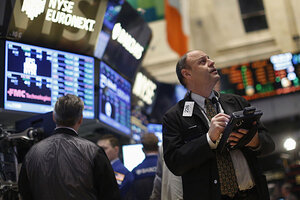 Brendan McDermid/Reuters
The Dow was held back by a slump in McDonald's stock Wednesday, leaving it short of a record.
The Dow Jones industrial average shed 35.79 points, or 0.3 percent, to close at 13,982.91. The Dow has gained 6.7 percent this year and is just 182 points below the record close of 14,164 it set in October 2007.
McDonald's was the biggest decliner in the Dow, losing $1.10 to $94, as investors worried that Americans will spend less on eating out following a rise in Social Security taxes at the beginning of the year. The government reported early Wednesday that spending by Americans barely grew last month.
Other fast-food companies also fell. Buffalo Wild Wings stock plunged $4.52 to $76.55 after its earnings fell short of analysts' expectations. Burger King and Wendy's also fell.
"Consumer spending is coming under pressure," said Bryan Elliott, an analyst at Raymond James. "It's the easiest way to save money, stay at home and cook."
The Standard & Poor's 500 index edged up 0.90 point to 1,520.33. The index climbed as high as 1,524 during the day, the highest since November 2007. It is up 6.6 percent so far this year.
---