Stricken Carnival cruise ship nears Mobile, Alabama
As the damaged Carnival cruise ship limped towards the Alabama coast, passengers talked about the overwhelming stench and described the trip as hellish.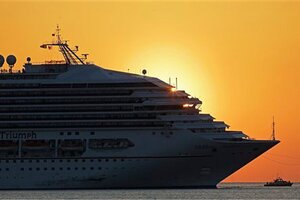 Dave Martin / AP
Reeking of raw sewage, a crippled cruise ship carrying more than 4,200 people was limping into Mobile, Alabama, on Thursday as passengers awaited the end of a vacation voyage some described as hellish.
The Carnival Triumph was being towed into port by tugboats as the drama played out live on U.S. cable news stations, creating another public relations nightmare for cruise giant Carnival Corp. Last year, its Costa Concordia luxury ship grounded off the coast of Italy, with 32 people killed.
Passengers described an overpowering stench on parts of the ship four days after an engine room fire knocked out power and plumbing across most of the 893-foot (272-metre) vessel and left it adrift in the Gulf of Mexico. The ship, which went into service in 1999, was on a four-day cruise and on its way back from a stop in Cozumel, Mexico.
After the mishap, toilets and drainpipes overflowed, soaking many cabins and interior passages in sewage and turning the vessel into what some have described as a giant Petri dish.
"The thing I'm looking forward to most is having a working toilet and not having to breathe in the smell of fecal matter," said Jacob Combs, an Austin, Texas-based sales executive with a healthcare and hospice company.
---