Fisker steps away from 'green car' company
Henrik Fisker abruptly resigned from Fisker Automotive Inc. on Wednesday. The struggling business has not produced a vehicle since last summer. It is currently looking for funding and partnerships and it's unclear how Fisker's departure will affect the company's future.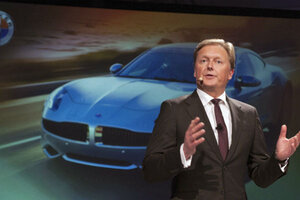 REUTERS/Allison Joyce/Files
The founder and executive chairman of Fisker Automotive Inc resigned from the cash-strapped "green car" startup on Wednesday, saying he was at odds with the automaker's top executives over business strategy.
Henrik Fisker's abrupt exit comes at a sensitive time for the company, which has not produced a car since last July and is looking for a financial backer to buy a stake and help build its second model, the Atlantic plug-in hybrid.
"The main reasons for his resignation are several major disagreements that Henrik Fisker has with the Fisker Automotive executive management on the business strategy," according to an email from Henrik Fisker announcing his departure.
He declined to describe the nature of the disagreements that prompted him to leave the company, which he founded with Barny Koehler in 2007 shortly before a deep recession in the United States undercut consumer demand for vehicles.
It is unclear how the departure of the Danish-born Fisker, 49, will affect the company's search for a partner. The company is weighing bids from two Chinese automakers: Geely, the owner of Sweden's Volvo, and state-owned Dongfeng Motor Group Co , sources have said.
In a statement, Fisker Automotive said the departure would not prompt a change in the company's strategy.
"The company has a strong and experienced management team and its strategy has not changed," the company said in a statement. "Mr. Fisker's departure is not expected to impact the company's pursuit of strategic partnerships and financing."
Finding a partner would lend the company credibility after the rocky and delayed introduction of its flagship plug-in hybrid sports car, the Karma, which starts at $103,000.
The delay in bringing the Karma to market prompted the U.S. Department of Energy to bar the company from drawing down the rest of its $529 million federal loan.
The resulting cash crunch made it tough for the company to meet what Chief Executive Tony Posawatz described as an "overly ambitious and aggressive" business plan.
---