Jeep recall? Chrysler refuses to recall 2.7 million Jeeps
Jeep recall may not happen: Chrysler has taken the unusual step of declining a request from federal officials to recall Jeep Grand Cherokees and Jeep Libertys.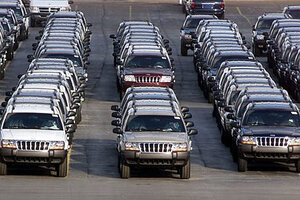 Carlos Osorio / AP / File
A defiant Chrysler is refusing to recall about 2.7 million Jeeps the government says are at risk of a fuel tank fire in a rear-end collision.
The National Highway Traffic Safety Administration sent Chrysler a letter asking that the company voluntarily recall Jeep Grand Cherokees from 1993 through 2004 and Jeep Libertys from 2002 through 2007.
Chrysler Group LLC, which is majority-owned by Italy's Fiat SpA, said in a statement Tuesday that the Jeeps are safe and it "does not intend to recall the vehicles."
Such a refusal by an auto company is rare. NHTSA can order a recall but needs a court order to enforce it.
David Strickland, the agency's administrator, said in a statement that he hopes Chrysler will reconsider its decision. "Our data shows that these vehicles may contain a defect that presents an unreasonable risk to safety," Strickland said.
NHTSA opened an investigation into the Jeeps in August 2010 at the request of the Center for Auto Safety, a Washington, D.C., advocacy group. Clarence Ditlow, the center's director, has repeatedly sent letters to Chrysler seeking a recall.
The agency found that the Jeeps' fuel tanks can fail when hit from the rear, leak fuel and cause fires if there's an ignition source. The placement of the tanks behind the rear axle and their height above the road is a design defect, NHTSA wrote in a letter to Chrysler dated Monday.
Chrysler moved the fuel tanks on the Grand Cherokee ahead of the rear axle in 2005, and did the same thing with the Liberty in 2007. But retrofitting the older Jeeps with repositioned tanks would be time consuming and costly. In 2011, when Toyota recalled 1.7 million cars for possible fuel leaks from loose fuel pressure sensors, an analyst estimated the cost at $240 million.
---