J.C. Penney intensifies new CEO search, sources say
J.C. Penney is fast tracking its CEO search in order to placate one of its biggest investors and stabilize the struggling department stores' quickly falling stock price. J.C. Penney stock jumped 8 percent on the news.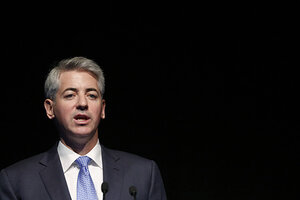 Brendan McDermid/Reuters/File
J.C. Penney is searching for a new CEO, sources told CNBC Thursday, as the struggling department store seeks to placate one of its biggest investors and stabilize a stock price that has been in free-fall.
In April, Penney abruptly dismissed former Apple executive Ron Johnson, and brought on Mike Ullman to replace him on an interim basis. Yet in a letter to Penney's board obtained by CNBC, hedge fund manager Bill Ackman — one of the company's biggest investors — voiced frustration that the process to fill the job permanently has not advanced quickly enough. He wants a new chief installed within the next 30-45 days, the letter said.
Saying that he was "very concerned" about the company's future, the hedge fund manager pressed the board for a clear succession plan — expressing concern that the process had taken as long as it has given J.C. Penney's widening problems.
Ackman wants new JCP CEO to be in place in 45 days
CNBC's Scott Wapner has the latest details on Bill Ackman's comments to JC Penney regarding his frustration with their ability to choose a CEO for the company.
"Considering the scale of J.C. Penney, the seriousness of the issues it faces, and the complexity of its business, there are only a handful of executives with sufficient talent and experience to take on the CEO role," Ackman wrote in his letter. "We need a CEO with extensive, ideallydepartment-store retail experience, strong operational skills, and a strong public company track record."
---