Stocks eke out small gains. Apple leads tech companies.
Stocks earned small gains on Wall Street Tuesday courtesy of an upturn in technology companies. Apple led the gain in technology stocks after billionaire investor Carl Icahn said on Twitter that he held a large position in Apple and that its stock was undervalued.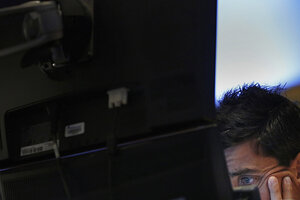 Brendan McDermid/Reuters
Stock indexes eked out small gains Tuesday after an upturn in technology companies outweighed weakness in other parts of the market, including a drop in airlines.
The gain in technology stocks was driven by Apple. The technology company surged after billionaire investor Carl Icahn said on Twitter that he held a large position in Apple and that its stock was undervalued.
August is shaping up to be a lackluster month for the stockmarket as major indexes fail to add significantly to the gains they made in July. The Standard & Poor's 500 index has drifted lower, fluctuating between small losses and gains, since closing at an all-time high Aug. 2.
A sharp rise in Treasury yields also rippled through the stockmarket on Tuesday.
The yield on the 10-year note climbed close to its highest in two years after industrial production in the eurozone rose in June from the month before and investor confidence rose in Germany, the region's biggest economy. Signs have been emerging that Europe is emerging from its recession.
The sharp rise in yields lifted financial companies because higher interest rates could help them generate better profit margins. That helped offset declines in homebuilders and other stocks that are sensitive to rising borrowing costs.
The yield is also climbing on speculation that the Federal Reserve will cut its stimulus as the economy recovers. Atlanta Fed President Dennis Lockhart said Tuesday that it was too early to say when the bank would ease back on its stimulus, but hinted that it would likely happen before the end of the year.
"You could argue that stocks would be up higher today if the bond market was behaving," said John Canally, Investment Strategist for LPL Financial. "The market's trend right now is higher."
Homebuilder stocks slid on concern that mortgage rates will climb, raising the cost of buying a home and potentially blunting a recovery in the housing market. The stocks of phone companies and utilities that typically pay big dividends also fell. Those stocks have been slumping as Treasury yields have risen, because some investors had been buying them as an alternative to bonds as a source of investment income.
Airline stocks slumped after the federal government challenged the proposed merger of US Airways and American Airlines, a deal between two of the largest carriers. The government says the deal would result in "substantial harm to consumers" in higher fares and fees.
---