Halliburton's former manager charged with destroying evidence after 2010 oil spill
Former Halliburton manager Anthony Badalamenti was charged with destroying evidence about the 2010 BP oil spill, which became the largest offshore oil spill in US history. The company has already pleaded guilty to destroying evidence about its role in the spill.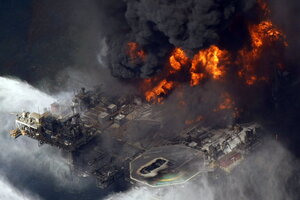 Gerald Herbert/ AP Photo/ File
A former Halliburton manager was charged Thursday with destroying evidence following BP's 2010 oil spill in the Gulf of Mexico, a case that coincides with a guilty plea to a related charge by the Houston-based oilfield services company.
Anthony Badalamenti, who had been the cementing technology director for Halliburton Energy Services Inc., was charged in federal court with instructing two other employees to delete data during a post-spill review of the cement job on BP's blown-out well.
Halliburton was BP PLC's cement contractor on the drilling rig that exploded in the Gulf in April 2010, killing 11 workers and triggering the largest offshore oil spill in U.S. history.
Badalamenti, 61, is charged in a bill of information, which typically signals that a defendant is cooperating with prosecutors. His attorney, Tai H. Park, declined to comment. Badalamenti is scheduled to be arraigned on Sept. 30.
Also on Thursday, a federal judge accepted a plea agreement that calls for Halliburton to pay a $200,000 fine for a misdemeanor stemming from Badalamenti's alleged conduct.
U.S. District Judge Jane Triche Milazzo said she believes the plea agreement is reasonable and agreed with prosecutors and the company that it "adequately reflects the seriousness of the offense."
---