Stocks fall for a fourth day
Stocks fell Tuesday on mixed economic reports and concern about a government shutdown. Stocks edged lower in early trading, before reversing the losses to move modestly higher by late morning. The gains then fizzled out.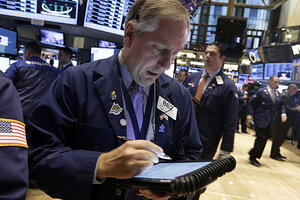 Richard Drew/AP/File
Wall Street couldn't shrug off doubts about the economy and government gridlock on Tuesday.
Mixed economic reports and concern about a government shutdown dragged stocks lower in the final half-hour of trading. They had been positive most of the day.
The modest losses extended the losing streak for the Standard & Poor's 500 index to four days. It was the longest run of declines in a month. The Dow Jones industrial average also dropped for a fourth straight day.
Investors struggled with conflicting news about the economy on Tuesday. One report showed that home prices in July rose the most in more than seven years. Another showed that Americans' confidence in the economy slipped in September.
Investors are searching for direction after the Federal Reserve's surprise decision last Wednesday to keep its stimulus program intact. They had expected a reduction in the Fed's $85 billion in monthly bond purchases. Investors are now parsing economic reports and comments from Fed officials to gauge the central bank's next move.
Some are also nervous about political gridlock in Washington. They were concerned that the federal government could shut down because Washington lawmakers appear to be making little progress in budget talks.
"A government shutdown starting next week is looking increasingly likely," said Jim Russell, a regional investment director at U.S. Bank. "That will not be welcomed by the capital markets."
---