Stocks drop on Wal-Mart, Washington fears
Stocks fell on Wall Street for a fifth straight day Wednesday. Worries about the economy and a report that Wal-Mart is cutting orders with suppliers weighed on stocks.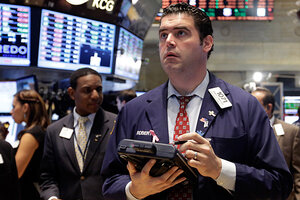 Richard Drew/AP
Wal-Mart spooked the stock market Wednesday — helping push stocks lower for a fifth straight day.
The Dow Jones industrial average fell 61.33 points, or 0.4 percent, to 15,273.26. The Dow was dragged down by Wal-Mart after Bloomberg News reported that the world's biggest retailer is cutting orders with suppliers as unsold merchandise piles up.
Wal-Mart spokesman Dave Tovar said the report was misleading and that in some categories, the discounter was ordering more, and in other areas it was ordering less.
"This is business as usual," Tovar said, noting that it was part of an ongoing process of managing the seasonality of the business based on consumer demand.
Wal-Mart fell $1.10, or 1.5 percent, to $74.65, taking the rest of the market with it.
The Standard & Poor's 500 index fell five points, or 0.3 percent, to 1,692.77. Its five-day losing streak is the longest this year.
The Nasdaq composite lost seven points, or 0.2 percent, to 3,761.10.
Worries about the economy and the growing possibility of a government shutdown also continue to weigh on investors' minds. In just a week, the mood of investors has shifted from giddiness over more Federal Reserve stimulus to concern that that a government shutdown could harm the fragile U.S. economic recovery.
---