Stocks end mostly higher on signs of compromise
Stocks closed mostly higher on Wall Street Wednesday as lawmakers appeared to be making moves toward ending a stalemate in Washington. In a move that many investors regarded as a positive for stocks, the White House nominated Federal Reserve Vice Chair Janet Yellen for the top position at the central bank.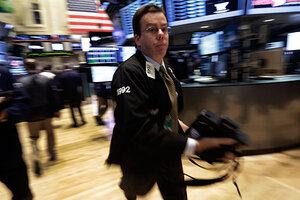 Richard Drew/AP
Signs that lawmakers are making moves to end a stalemate in Washington and avert a U.S. government debt default halted a slump on the stock market Wednesday.
President Barack Obama is making plans to talk with Republican lawmakers at the White House in the coming days as pressure builds on both sides to resolve their deadlock over the federal debt limit and the partial government shutdown before the U.S. Treasury's borrowing authority is exhausted next week.
The stock market's losses accelerated at the start of this week as the shutdown dragged on and both the White House and House Republicans appeared to be coming more entrenched in their positions. The Standard & Poor's 500 index has fallen about 4 percent since climbing to a record on Sept. 18.
"We were quite oversold," Alec Young, a global equity strategist at S&P Capital, said of the market's moderate recovery on Wednesday. "For this really to have any legs, though, we need to see signs of compromise in Washington."
The S&P 500 index gained 0.95 points, or 0.1 percent, to 1,656.40. The index lost 2 percent in the first two days of this week as concerns grew that politicians would fail to reach a deal before the government hits its debt ceiling on Oct. 17.
The Dow Jones industrial average rose 26.45 points, or 0.2 percent, to 14,802.98. The Nasdaq composite fell 17.06 points, or 0.5 percent, to 3,677.78.
---