Surprise! Jobless claims jumped by 25,000 last week.
(Read article summary)
Initial jobless claims in the US jumped 25,000 to 304,000 last week, moving the average for seasonally adjusted jobless claims above the closely-watched 300,000 level.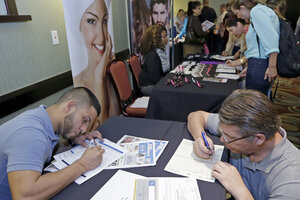 Alan Diaz/AP/File
Today's jobless claims report showed a notable increase to initial unemployment claims and a decrease to insured unemployment claims as seasonally adjusted initial claims jumped above the 300K level.
Seasonally adjusted "initial" unemployment claims jumped 25,000 to 304,000 claims while seasonally adjusted "insured" claims declined by 51,000 to 2.354 million resulting in an "insured" unemployment rate of 1.8%.
---