2010: The year Washington became business friendly
(Read article summary)
America has made the climate as comfortable as possible for CEOs, who have repaid the favor by creating more and more jobs – in other countries.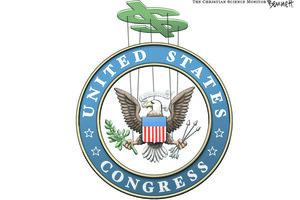 Clay Bennett / The Christian Science Monitor
History will record 2010 as the year Washington became "business friendly."
Not that it was all that unfriendly before. Some would say the bailouts of Wall Street, AIG, GM, and Chysler were about as friendly as it can get. In addition, Washington gave windfalls to drug companies and health insurers in the new health bill, subsidies to energy companies in the stimulus package, and billions to domestic and military contractors.
But for corporate America it still wasn't friendly enough. Before the midterm elections, Verizon CEO and Business Roundtable chair Ivan Seidenberg accused the President of creating a hostile environment for investment and job-creation. In the midterms, business leaders overwhelmingly threw their support to Republicans.
So the White House caved in on the Bush tax cuts for the wealthy, and is telling CEOs it will be on their side from now on. As the President recently told a group of CEOs, the choice "is not between Democrats and Republicans. It's between America and our competitors around the world. We can win the competition."
There's only one problem. America's big businesses are less and less American. They're going abroad for sales and employees. That's one reason they've showed record-breaking profits in 2010 while creating almost no American jobs.
Consider one of most popular Christmas products of all time – Apple's iPhone. Researchers from the Asian Development Bank Institute have dissected an iPhone whose wholesale price is around $179.00 to determine where the money actually goes.
---