Can Democrats step up and save the country?
(Read article summary)
Democrats have become irrelevant, and a government shutdown is looming.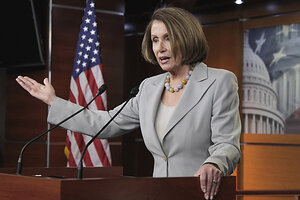 J. Scott Applewhite / AP / File
Republicans offered Democrats two more weeks before the doomsday shut-down. Democrats countered with four. Republicans held their ground. Democrats agreed to two.
This is what passes for compromise in our nation's capital.
Democrats have become irrelevant. If they want to be relevant again they have to connect the dots: The explosion of income and wealth among America's super-rich, the dramatic drop in their tax rates, the consequential devastating budget squeezes in Washington and in state capitals, and the slashing of public services for the middle class and the poor.
It is not a complicated story. Begin with what's happened to the typical American, whose wages have been stagnant for thirty years. Today's typical 30-year-old male (if he has a job) is earning the same as a 30-year-old male earned three decades ago, adjusted for for inflation. (Although women are doing better than they did 30 years ago, their wages still trail men's.)
The bottom 90 percent of Americans now earn, on average, only about $280 more per year than they did thirty years ago. That's less than a 1 percent gain over more than a third of a century. Families are doing somewhat better but that's only because so many families now have to rely on two incomes.
But wait. The American economy is more than twice as large now as it was thirty years ago. So where did the money go? To the top. The richest 1 percent's share of national has doubled – from around 9 percent in 1977 to over 20 percent now. The richest one-tenth of 1 percent's share has tripled. The 150,000 households that comprise the top one-tenth of one percent now earn as much as the bottom 120 million put together.
---