Heading for a double dip
(Read article summary)
Nobody in Washington or Wall Street wants to admit it, but the economy is leaning toward another plunge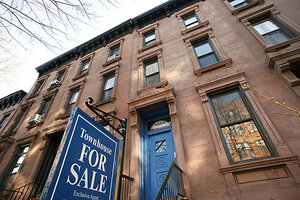 Mark Lennihan / AP
Why aren't Americans being told the truth about the economy? We're heading in the direction of a double dip – but you'd never know it if you listened to the upbeat messages coming out of Wall Street and Washington.
Consumers are 70 percent of the American economy, and consumer confidence is plummeting. It's weaker today on average than at the lowest point of the Great Recession.
The Reuters/University of Michigan survey shows a 10 point decline in March – the tenth largest drop on record. Part of that drop is attributable to rising fuel and food prices. A separate Conference Board's index of consumer confidence, just released, shows consumer confidence at a five-month low — and a large part is due to expectations of fewer jobs and lower wages in the months ahead.
Pessimistic consumers buy less. And fewer sales spells economic trouble ahead.
What about the 192,000 jobs added in February? (We'll know more Friday about how many jobs were added in March.) It's peanuts compared to what's needed. Remember, 125,000 new jobs are necessary just to keep up with a growing number of Americans eligible for employment. And the nation has lost so many jobs over the last three years that even at a rate of 200,000 a month we wouldn't get back to 6 percent unemployment until 2016.
But isn't the economy growing again – by an estimated 2.5 to 2.9 percent this year? Yes, but that's even less than peanuts. The deeper the economic hole, the faster the growth needed to get back on track. By this point in the so-called recovery we'd expect growth of 4 to 6 percent.
---