Deficit won't budge without raising taxes on the rich
(Read article summary)
There are plenty of ways to cut spending, but without raising taxes for the super rich, the deficit won't get any smaller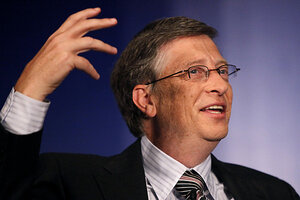 B. Mathur / Reuters / File
It's tax time. It's also a time when right-wing Republicans are setting the agenda for massive spending cuts that will hurt most Americans.
Here's the truth: The only way America can reduce the long-term budget deficit, maintain vital services, protect Social Security and Medicare, invest more in education and infrastructure, and not raise taxes on the working middle class is by raising taxes on the super rich.
Even if we got rid of corporate welfare subsidies for big oil, big agriculture, and big Pharma – even if we cut back on our bloated defense budget – it wouldn't be nearly enough.
The vast majority of Americans can't afford to pay more. Despite an economy that's twice as large as it was thirty years ago, the bottom 90 percent are still stuck in the mud. If they're employed they're earning on average only about $280 more a year than thirty years ago, adjusted for inflation. That's less than a 1 percent gain over more than a third of a century. (Families are doing somewhat better but that's only because so many families now have to rely on two incomes.)
Yet even as their share of the nation's total income has withered, the tax burden on the middle has grown. Today's working and middle-class taxpayers are shelling out a bigger chunk of income in payroll taxes, sales taxes, and property taxes than thirty years ago.
It's just the opposite for super rich.
The top 1 percent's share of national income has doubled over the past three decades (from 10 percent in 1981 to well over 20 percent now). The richest one-tenth of 1 percent's share has tripled. And they're doing better than ever. According to a new analysis by the Wall Street Journal, total compensation and benefits at publicly-traded Wall Street banks and securities firms hit a record in 2010 — $135 billion. That's up 5.7 percent from 2009.
---