The GOP's last wish
(Read article summary)
Republicans are gaining more support for a plan that would make Medicare a voucher-based system. If Republicans focus on Medicare during the 2012 presidential campaign, will it help them or hurt them?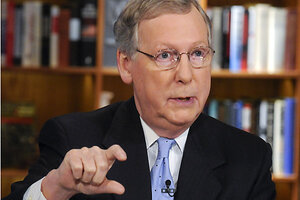 William B. Plowman / Meet the Press / AP
Forty Senate Republicans have now joined their colleagues in the House to support Paul Ryan's plan that would turn Medicare into vouchers that funnel money to private health insurers. They thumbed their nose at the special election in upstate New York earlier this week that delivered a victory to Democrat Kathy Hochul, who made the plan the focus of her upset victory.
So now it's official. The 2012 campaign will be about the future of Medicare. (Yes, it will also be about jobs, but the Republicans haven't come up with any credible ideas on that front, and the Democrats seem incapable of doing what needs to be done.)
This spells trouble for the GOP. Polls show an overwhelming majority of Americans — even a majority of Republican voters — want to preserve Medicare. They don't want to turn it over to private insurers.
It would be one thing if Republicans had consistency on their side. At least then they could take the high road and claim their plan is a principled way to achieve the aims of Medicare through market-based mechanisms. (It isn't, of course. It would end up squeezing seniors because it takes no account of the rising costs of health care.)
But they can't even claim consistency. Remember, this was the same GOP that attacked the President's health-reform plan in 2010 by warning it would lead to Medicare cuts.
Former President Bill Clinton counsels Democrats not to say Medicare is fine the way it is. He's right. But instead of talking about Medicare as a problem to be fixed, Democrats should start talking about it as a potential solution to the challenge of rising health-care costs — as well as to our long-term budget problem.
---