No free checking accounts at your bank? Try this.
(Read article summary)
Many banks weigh eliminating free checking accounts. But more than a third of US credit unions expect to keep free checking accounts.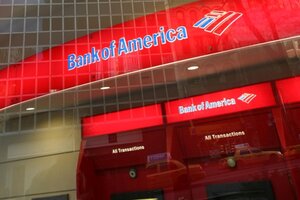 Mark Lennihan/AP/File
Regulatory changes threaten to end free checking accounts at banks. But don't despair. More than a third of credit unions in the United States plan to continue offering the perk for the foreseeable future.
This is all the more reason to join a credit union in 2011. The best bets out there for convenience are credit unions that offer shared branching and access to a large nationwide network of surcharge-free automated teller machines (ATMs).
Banks in a bind
Banks have been reeling from two regulatory changes that are threatening their ability to provide free checking accounts. Last August, they lost the ability to slam checking-account holders with overdraft fees without their consent to overdraft protection. On July 21, 2011, the so-called Durbin amendment is scheduled to kick in, severely reducing the 1 percent interchange fee that mid-sized and large banks currently charge for debit card transactions.
These two fee streams are so lucrative, they accounted for all the profits of several banks in 2009. Therefore, it comes as no surprise that there is a nearly universal effort among financial institutions to get Congress to change the Durbin amendment – or, barring that, to find ways to recover that lost revenue.
Banks can either raise minimum balances required for free checking or impose monthly service fees.
The Durbin amendment doesn't apply to financial institutions with less than $10 billion in assets. In theory, this exempts nearly every credit union. But credit unions worry that they'll lose interchange-fee revenue, too, because merchants could simply decide not to accept their debit cards. So they have also lobbied to have the Durbin amendment changed.
Credit unions could also drop free checking
---