Debit card fees: You can still avoid them. For now.
(Read article summary)
Debit card fees are on the rise as banks look for ways to make up for lost revenue. But Citibank, Capital One still offer no-fee cards.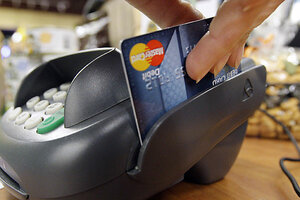 Elaine Thompson/AP/File
On Oct. 1, banks will start to lose a substantial amount of revenue from their debit cards.
The interchange or "swipe" fee that they could charge merchants for every transaction will be cut in half, basically, because of the so-called Durbin amendment to the Dodd-Frank financial reform legislation. The Federal Reserve estimates that this fee generates about $16 billion for banks each year, so banks will collectively lose approximately $8 billion in revenues starting in the fall.

How will banks react to this seismic change?

Whenever banks suffer a loss of revenue in one area, they find a way to make up for it in other areas. In the great majority of cases, the consumer ends
up paying for these changes. And this looks to be the case once again.

Many banks are already adjusting by eliminating rewards programs for their debit cards and creating new fees. Wells Fargo, for example, announced last week that it will test a $3 monthly fee for debit card users in five states: Georgia, Oregon, New Mexico, Nevada and Washington. Wells Fargo is also eliminating its debit card rewards program for all customers starting Oct. 8.
---