The rise in bank fees is over
(Read article summary)
Bank fees typically go up before new regulations. Now that the rules are in place, the most troublesome fee hikes are disappearing and competition will keep them from coming back.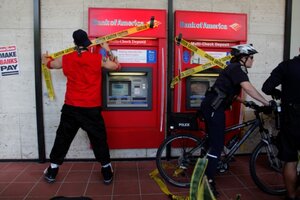 Damian Dovarganes/AP/File
Anyone who hasn't been living under a rock for the past few months knows that bank fees have been rising for some time. While 86 percent of the checking accounts offered by the nation's 10 largest banks now have monthly fees if you don't reach minimum balance requirements, according to the Pew Charitable Trusts, there is reason for consumer optimism. A number of major banks recently called off planned debit card fees and other changes to their checking accounts amid a public outcry. Does this mean that we can let out a sigh of relief and that bank fees have finished rising?
The short answer is yes. However, before we get into the rationale for this conclusion, it is important to explain why fees rose in the first place. The root cause can be summed up in two words: lost revenue. More specifically, new rules regarding overdraft fee protections, which took effect in July 2010, and debit card interchange fee regulation, effective Oct. 1, 2011, cost banks upwards of $30 billion in revenue annually. Obviously, as for-profit businesses, banks were going to attempt to recoup these losses, hence the rising fees.
Now, while you might think that this supports the notion that fees will continue to rise, the opposite is actually true for a simple reason: When faced with regulatory changes, banks typically implement strategies to recoup any lost revenue prior to the new rules taking effect. Therefore, banks have already shown their hand, and the most troublesome reactionary measures are on their way out.
---