How credit cards can save you money on car loans – and other debt
(Read article summary)
Credit-card balance transfers can get you no- or low-interest money. Just be sure to save enough to pay back the credit-card balance transfer.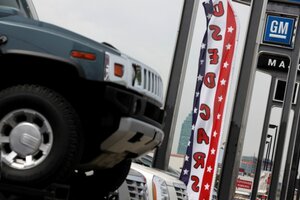 Shannon Stapleton/Reuters/File
With the average consumer thousands of dollars in debt, it's easy to assume that very little short of a turbo-charged economic recovery will significantly improve someone's financial situation. But help could be available from an unlikely source: a credit card.
Eight of the largest credit card issuers allow you to transfer your auto loan balance to a credit card in order to score a lower interest rate. Seven of them enable transfers from mortgages, student loans, small business loans, home equity lines of credit, and more, according to a recent CardHub.com study. We're not just talking about a marginally lower rate.
A number of cards offer interest-free introductory periods that last a year or more. If used strategically, these zero-percent balance transfer promotions?? could save you as much as $1,000 while expediting debt freedom. (Compare balance transfer credit cards at Card Hub.)
The first step is to identify your costliest debt.
Odds are your credit card will have the highest interest rate, in which case the best offer for you is clear: the Slate Card from Chase. The Slate Card comes with what's known as a free balance-transfer offer. It gives you a zero percent introductory interest rate for 15 months without charging either an annual fee or a balance transfer fee. You can use a credit card calculator to gauge the Slate Card's potential savings for you. For the average household with a roughly $6,700 balance, it could eliminate up to $1,250 in unnecessary fees and finance charges.
Unfortunately, Chase only accepts transfers of credit card debt. You'll need a different card if, for example, an auto loan is your most expensive debt. Click on the chart above to see what types of balance transfers each major issuer will facilitate.
---