Laptop sales: Windows 8's loss is your gain
(Read article summary)
Windows 8 isn't meeting expectations, which means deep discounts on laptops and software.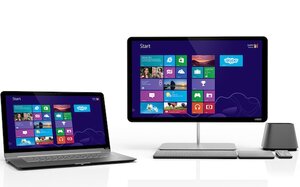 VIZIO/PRNewsFoto/File
Despite Microsoft's best efforts, it seems that Windows 8 isn't meeting expectations. According to research firm Net Applications, Microsoft's latest OS hasn't even been able to match sales of Vista (which, if you recall, was a major fail for the company). Making matters worse, Microsoft has a long line of unhappy manufacturers — including HP, ASUS, Fujitsu, and Samsung — upset with Windows 8's failure to revitalize an already-sluggish PC market.
In response, Microsoft is discounting Windows 8 licenses to its original equipment manufacturing (OEM) partners; licensing fees have fallen from $120 to just $30. And while the discount is intended to help move 11" ultraportables, our deal data suggests that the cut — in addition to the low adoption rate — is affecting prices on all Ivy Bridge Windows 8 systems, including mainstream 15" configurations.
Windows 8 Drops Ivy Bridge Laptops to Better-Than-Black Friday Prices
Although Intel debuted its Ivy Bridge line of processors only 10 months ago, our deals suggest that Windows 8's troubles are prematurely driving prices down on systems sporting these CPUs. In fact, just last month we saw a 15" Ivy Bridge laptop sell for an all-time low of $299. The laptop, which was equipped with 6GB of RAM and a 750GB hard drive, was a full $100 under our best Black Friday deal.
Conversely, laptops with previous-gen Sandy Bridge CPUs and Windows 7 didn't see such swift price cuts over the same time period; when Sandy Bridge-based laptops hit their 10-month mark, mainstream 15" Core i5-based laptops had dropped to $400 — a 34% discount from their debut price. By comparison, after 10 months on the market, today's mainstream 15" Windows 8 Core i5 Ivy Bridge-based laptops have fallen 46% from their debut price, to a rock-bottom $299.
In addition to a poor reception to the OS, there are still plenty of flavors of Windows on the market, a factor which may be contributing to a lag in current Windows 8 sales. In fact, some of our own readers have expressed seeking out older systems just to avoid Windows 8. This hesitation to adopt — and adapt — to the touchscreen-happy UI of Windows 8 may also explain why we're seeing such steep discounts on Windows 8-equipped Ivy Bridge laptops.
Buy Now, or Look for Bundles Later
Rumors indicate that Microsoft has an update to Windows 8 in store for August. Codenamed Windows Blue, the refresh will add new features and more customization options. It's possible that when it debuts, we might even see further deals and discounts on Windows 8 Ivy Bridge systems especially since Windows Blue is set to launch just as back-to-school sales are in full swing. While we don't think rock-bottom prices will drop much from their current low of $299, savvy shoppers might be able to score a laptop bundle this summer, as is typical with many back-to-school laptop deals.
If you don't want to wait that long to buy a Windows 8 deal, we recommend looking for mainstream 15" configurations priced at around $299. For a larger 17" Windows 8 Ivy Bridge-equipped desktop replacement, we've seen prices fall to as low as $400 on several occasions in recent months. And if you decide to bump up the specs on that 17" system to include a high-end i7 CPU (which will likely come with more RAM and storage), you can expect to pay about $600. 
Louis Ramirez is a Senior Feature Writer for Dealnews.com, in which this article first appeared. 
---