Japan's population ages: Will it put its elderly back to work?
(Read article summary)
Japan's aging population threatens the Japanese standard of living, argues guest blogger Stefan Karlsson. One solution is to dramatically raise the retirement age.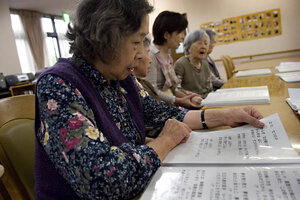 Andy Nelson / The Christian Science Monitor / File
Associated Press reports that Japan's population fell by 123,000 in 2010, or by roughly 0.1%. Yet the working age population is declining even faster.
In late 2004, there were 85.08 million people aged 15 to 64, but by late 2010, that number had dropped to 81.07 million, an average annualized drop of 0.8%. Meanwhile, the number of people older than 65 rose from 24.88 million to 29.46 million, an average annualized increase of 2.9%.This increase has been almost entirely concentrated in the above 75 years group.
Japan's problem isn't so much the moderate decline in the overall population, but rather the dramatic increase in the number of old people relative to the number of available workers.
Dean Baker tries to make us believe that this is not a problem because he argues that it can be made up for by productivity growth.
But first of all, the point is that this change in population structure will reduce living standards compared to if it hadn't changed. There is no reason to believe it will boost productivity growth. If anything the opposite is true as the growing number of retirees will lower savings and therefore also investments.
---