South Korea's enviable unemployment problem
(Read article summary)
South Korea's youth unemployment rate is 6.7 percent, a far lower rate than any Western country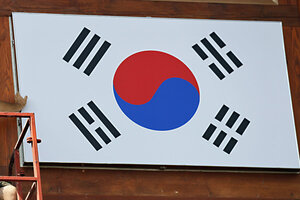 Eugene Hoshiko/AP/File
In the English language Korean online newspaper Korea JongAng Daily, a writer called Kim Jong-so writes about rising discontent over high youth unemployment in South Korea. How high is it? 6.7%.
While that is higher than the less than 3% unemployment rate for middle age and older workers in South Korea, it is lower than in all Western countries. By comparison, youth unemployment was 22% in the EU as a whole, with even the country with the lowest youth unemployment rate, Holland, having a youth unemployment rate of 8.2%. All Western countries, but Spain in particular, with its 48.9% youth unemployment rate wióuld just love to have the level of problem with youth unemployment that South Korea has.
---
Follow Stories Like This
Get the Monitor stories you care about delivered to your inbox.