Is public employee compensation really causing Wisconsin's budget woes?
(Read article summary)
Either way, discussions about public employee compensation do need to be part of long-term budget fixes.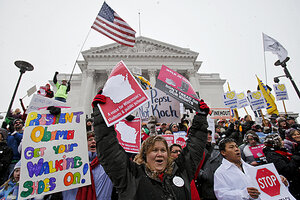 Andy Manis / AP
Wisconsin's ongoing battle over the future of public sector unions has put the question in stark relief: Is public employee compensation causing the states' current budget shortfalls and must it play a role in future fiscal decisions?
The answer to the first question is, "no." The projected budget short-term deficits in Wisconsin and 45 other states is largely a function of tax revenues that remain below their pre-recession peak levels, despite an improving economy. In Wisconsin, Governor Scott Walker's decision to pass tax cuts that benefit small business and encourage health savings accounts will deepen future revenue shortfalls
However, public employee worker discussions do need to be part of any long-term budget fix.
To start, it will be years before states return to a level of tax revenues they enjoyed in the days of the Internet and housing bubbles. And wage and benefit costs are a large part of state budgets.
In 2007-2008 (the most current year data is available) wages and salaries–excluding pension contributions and other benefits– made up 38 percent of state and local current spending. For local governments, wages and salaries represent 46 percent of current spending. For states, salaries and wages account for 26 percent. What else do states spend money on? Payments for social services/public welfare represent 41 percent of state spending (which does include some salaries and wages) but within this category payments to vendors (largely Medicaid payments to hospitals, nursing homes, and the like) make up 34percent.
As a result, it is hard to imagine how states can balance their budgets without cuts in public sector total compensation either through wage cuts, benefit concessions, or furloughs and layoffs. That will need to be one piece of the solution, along with finding ways to reduce the growth in health care spending and tax increases. With 2012 deficits for all states projected at $124.7 billion and Wisconsin projecting a two year deficit of $3.6 billion, governors will have to rely on some of each.
---