Ease corporate tax by hitting up shareholders
(Read article summary)
A higher tax on investors and a lower tax on corporations could keep more investments in the US.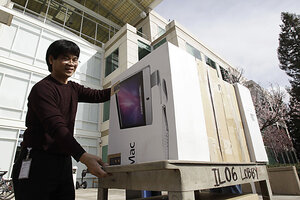 Paul Sakuma / AP / File
While there seems to be growing agreement in Washington that the U.S. needs to cut its tax rate on corporations, there is (surprise) no consensus at all on how to pay for this. One way: Raise taxes on capital gains and dividends.
This idea was one element of the broad tax reforms proposed last year by the chairs of President Obama's deficit reduction commission, Alan Simpson and Erskine Bowles, and by the Bipartisan Policy Center's deficit panel, chaired by Alice Rivlin and Pete Domenici. Both panels relied in part on analysis in a paper by my Tax Policy Center colleagues Eric Toder, Ben Harris, and Rosanne Altshuler. The plan has so far received little attention. It deserves more.
The plan would tax dividends and long-term capital gains at ordinary income rates, with a maximum rate on gains of 28 percent–compared to 15 percent today–and use the revenue to cut corporate tax rates. Those of you with long memories may remember these investment rates were the law back in 1997.
---
Follow Stories Like This
Get the Monitor stories you care about delivered to your inbox.