Carbon taxes: the levy (some) conservatives love
(Read article summary)
Conservatives may usually oppose tax increases, but it looks like some in Washington might go for a carbon tax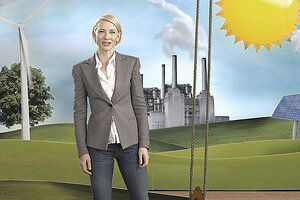 Say Yes/TV image/Reuters
You know the Washington Rule: Liberals will never support spending cuts and conservatives will never back tax increases. Yet, there is one new levy that at least some on the right do support—a carbon tax.
Backing for this idea has popped up in some interesting places. Most recently, the American Enterprise Institute included it in a deficit reduction plan it prepared for the Peterson Foundation. In recent years, conservative luminaries such as columnist George Will and economist Art Laffer have also talked up the idea.
I am by no means suggesting a carbon tax would be an easy sell, especially given the checkered political history of energy taxes. But, in contrast to other tax increases, this one has sprouted a few green shoots on the conservative side of the fence.
First, the history: Back in 1993, President Clinton proposed a broad-based energy tax (called a BTU tax since it taxed energy content measured in British Thermal Units). The proposal barely passed the House despite unanimous Republican opposition. Then it died in the Senate. That vote spawned a new Washington verb: To be BTU'd. This describes the unfortunate lawmaker forced to vote for an unpopular bill that has no chance of becoming law—sort of the 1993 version of those House Republicans who voted to end Medicare as we know it.
---