Obama, where are your economists?
(Read article summary)
Politicians need a team of stellar economists for advice during campaign season, and Obama seems to have lost his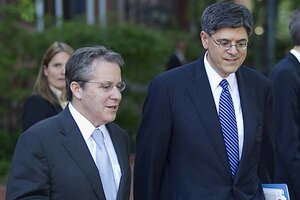 Evan Vucci / AP / File
In 2008, Barack Obama brought an all-star squad of centrist and center-left economists to the White House. Now, as he confronts a critical turning point in the economy and his own political career, he can barely field a team.
Much as I hate to admit it, politicians need economists, especially in campaign season. Their most important job may be to talk their bosses out of doing things that make for terrific sound bites but turn out to be very stupid in the real world. Yet, Obama is kicking off his reelection and trying to balance demands for economic growth and deficit reduction without a single economist in a top policy position.
Obama's initial team included such powerhouses as National Economic Council head Larry Summers and budget director Peter Orszag (a Tax Policy Center alumnus), who brought both academic chops and a wealth of Washington experience to their jobs. Christina Romer, Obama's first Council of Economic Advisers chair, is one of the nation's top scholars of the Great Depression (Fed Chair Ben Bernanke is another). Romer's successor, Austan Goolsbee, was not only a top-shelf academic economist at the University of Chicago but, more important, had earned Obama's trust well before the president moved into the White House. Goolsbee announced his return to Chicago this week. The others have been drifting away all year.
---
Follow Stories Like This
Get the Monitor stories you care about delivered to your inbox.