What will the debt deal mean for tax reform?
(Read article summary)
Instead of reigning in tax subsidies, the new deal might encourage more of them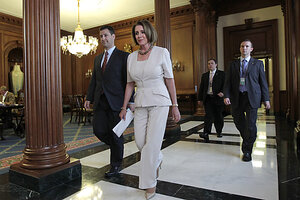 J. Scott Applewhite / AP
What will the debt deal mean for the future of tax reform? Sadly, nothing good.
The budget agreement is, for tax reformers, a huge disappointment. It is based on the fantasy that the nation can return to a sound fiscal footing through spending cuts only. It entirely ignores the revenue side of the budget. And while a special bipartisan congressional committee representing both the House and Senate (to be called the Gang of 12, I suppose) would have the authority to recommend tax reform later this year, there is no reason to believe it will do so.
Indeed, because the debt deal will limit the ability of Congress to spend money directly, it is likely to encourage lawmakers to expand their use of tax subsidies. Instead of reform, this will only accelerate the trend towards what my Tax Policy Center colleague Gene Steuerle likes to call tax deform.
The new bipartisan deficit committee is set up, in fact, to make it as difficult as possible to fundamentally rewrite the tax code. The panel would be required to find about $1.5 trillion in deficit reduction over 10 years. In theory, it could get the money through either spending or new taxes. But if Congress fails to adopt the panel's recommendations (assuming it can even agree on a package), the consequence is $1.2 trillion in automatic spending cuts only. Taxes would be exempt from this step.
It is impossible to believe the GOP members of this committee would agree to new revenues. They might support a restructuring that ends some tax preferences and lowers rates but keeps total revenues about where they are (ala the Tax Reform Act of 1986). But the debt deal makes even that difficult.
---