How Congress can cap tax breaks
(Read article summary)
It's possible to reduce tax subsidies for wealthy Americans and reduce the deficit. Here are three proposals how: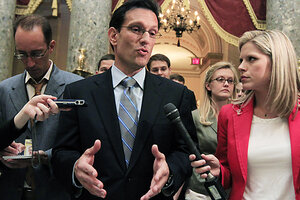 Manuel Balce Ceneta / AP
Sooner or later, Congress will realize it needs new revenues to help balance the budget, and trimming tax subsidies is the way to get them. But will it tackle individual preferences, such as the mortgage interest deduction, one at a time? Or, will it try to limit the political bloodshed and go after these tax breaks across-the board?
The Tax Policy Center has looked at three ways to limit the benefit of tax subsidies for high-income households. Each would raise billions in new revenues—money that could be used to both reduce the deficit and cut tax rates. And each would be quite progressive. However, they'd work very differently.
The first is the Obama Administration's proposal to cap the value of itemized deductions at 28 percent. The second, called the Effective Minimum Tax, would require high income households to pay a rate of at least 21 percent on their Adjusted Gross Income (AGI) plus municipal bond income. The third is a modified version of a plan offered by Marty Feldstein, Dan Feenberg, and Maya MacGuineas that would limit the value of deductions and credits to 2 percent of AGI. Let's take a look at each of them.
The Obama plan would raise about $165 billion over 10 years (I'm comparing each plan to current policy–that is, the taxes people pay today). According to this proposal, those in the 33 percent and 35 percent brackets could take all the same itemized deductions they do now, but their value would be capped at just 28 percent.
---