A recipe for recession
(Read article summary)
What will happen to the economy if Washington can't overcome its political gridlock?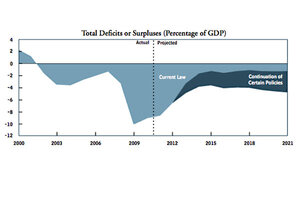 Congressional Budget Office
Given Washington's endless partisan nastiness—and thanks to some updated estimates by the Congressional Budget Office–it seems like a good time to revisit an old idea: What would happen if Congress and the White House just closed up shop for a couple of years and let fiscal policy run on autopilot?
The question is not so far-fetched, since it describes exactly what could happen if Congress' budget super committee fails and Washington is still locked in political gridlock at the end of next year. The answer? We'd dramatically reduce the projected short- and medium-term deficit and probably throw the economy back into recession.
Take a look at the CBO chart above. It may look familiar since my Tax Policy Center colleague Bob Williams used it just last week to describe the consequences of extending the 2001/2003/2010 tax cuts. He wanted you to focus on the dark blue area of the chart. But this time, think about the light blue part at the top.
---