How Washington uses budget wars to duck hard choices
(Read article summary)
In Washington's current dysfunctional atmosphere, attempts at real tax reform are likely to get lost in the cacophony, Gleckman writes. But for many in Washington, replacing serious debate with loud short-term squabbles over phony fiscal crises is exactly the idea.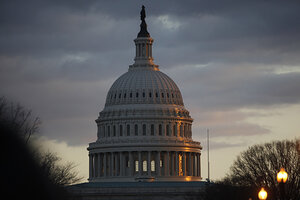 Charles Dharapak/AP/File
Treasury Secretary Jack Lew has notified Congress that the U.S. government will reach the limits of its ability to borrow in mid-October. Lew's letter sounds the opening notes of the overture to this fall's fiscal grand opera. Between October 1 and the end of the calendar year, President Obama and Congress will battle over the debt limit, fiscal 2014 spending, and a fistful of expiring tax provisions.
A dwindling few see this depressing confluence of fiscal deadlines as an opportunity to reach the long-awaited Grand Bargain. But in reality it is just the opposite, an excuse to avoid the tough choices of tax and entitlement reform. After all, it is easier for Washington to battle over self-made, short-term crises than resolve structural tax and spending challenges.
If you are a Republican, it is easier to demand that the Affordable Care Act be defunded than to back tough, specific cuts to Medicare. If you are Democrat, it is easier to rail against the inequities of the sequester than kill government programs that don't work. And if you are a politician of either party, it is much easier to embrace the vague concept of tax reform than to cut specific popular tax preferences.
---