How big is the penalty for not getting health insurance?
(Read article summary)
The penalty for not getting adequate health insurance is likely higher than the assumed $95. Williams explains how the penalties vary and how big they can get.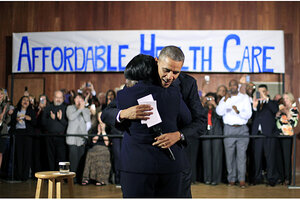 Pablo Martinez Monsivais/AP Photo/ File
Stories about the Affordable Care Act often tell readers that they'll have to pay a $95 penalty if they don't get adequate health insurance coverage. But, like a lot of other things I read about the health law, that's not quite correct. The penalty (which the Supreme Court said is actually a tax) could be less or, more likely, a lot more. It's a complicated story.
The basic penalty is $95 in 2014—if you're unmarried with no dependents and your income is less than $19,500. If your income is higher, you'll owe more: 1 percent of the amount by which your income exceeds the sum of a single person's personal exemption and standard deduction in the federal income tax. That's $10,000 in 2013. But be warned: Income equals adjusted gross income (AGI—that number on the last line on page 1 of your tax return) plus any tax-exempt interest and excluded income earned abroad. If you make $30,000, your penalty will be $200.
Still with me? Good, because it is about to get more confusing.
If you're married or have kids, you'll owe a minimum of $95 per person for yourself, your spouse, and each dependent over age 17 plus half that amount for each child under 18. But the total can't exceed three times the basic $95 tax, or $285. Except it can. If 1 percent of your income (minus your and your spouse's personal exemptions and standard deduction—$20,000 in 2013—plus those add-ons) is more than $285, that's what you'll owe. Oh, and you'll have to include your dependents' income in the calculation.
---