Conditions in Africa are improving – despite the NGOs?
(Read article summary)
Incomes are rising, and the inequality between rich and poor is shrinking, in sub-Saharan Africa, according to a new study.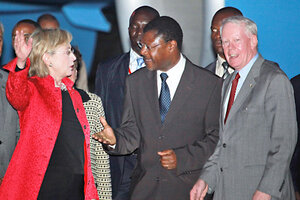 Sayyid Azim / AP / File
Semper aliquid novi Africa affert.
If I've managed to get my Pliny quote right that is telling us that there is always something new out of Africa. Something which does indeed seem to be the case:
Sen welfare is a combination of incomes and the distributions of those incomes: falling inequality is "good" and rising incomes are good, the opposites bad. As we can see, Sen welfare has been increasing in Africa since 1995 or so. Increasing strongly in fact. The paper this was taken from shows us that it's increasing both because inequality is falling and because incomes are rising: both parts of what we desire to happen are happening. Growth is happening and it's raising the incomes of the poor, not just sticking in the hands of the WaBenzi.
We can identify what's going on here too: the early to mid 90s were when the strictures of the Washington Consensus reached Africa. There's nothing all that special about said Consensus either: it's really a little more markets please, a little less bureaucracy. Floating exchange rates, reasonable but real interest rates, a little less planning and a little more leaving resources to fructify in the pockets of the populace.#
And we can see the result of that Washington Consensus too. The one thing most had given up on ever actually happening: wide scale, dispersed, pro-poor and long running growth in Africa.
---