Setback for British 'free schools'
(Read article summary)
Strict building regulations may hinder the formation of a competitive market of new schools.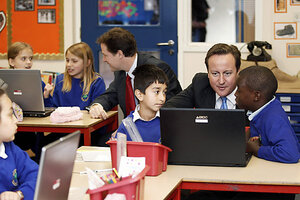 Christopher Furlong / Reuters / File
The Financial Times reports that the Department for Education is not going to meet its target date for relaxing school building regulations. This is bad news for the government's 'free schools' agenda.
The idea behind free schools is a great one: expand the supply of good school places by encouraging private organizations to set up their own schools, which will then receive state funding on a per-pupil basis. This expansion in supply will allow British parents to exercise choice over where their children go to school. That choice will, in turn, bring competitive pressures to bear on the state education system: popular schools will be able to expand, bad schools will wither and die. Standards will be driven up across the board as a consequence.
But there's a problem. For this to work, you need lots of new providers entering the market. And that's not going to happen if you've got very strict building and planning regulations, which allow local authorities to obstruct the process.
The government always planned make it easier for schools to be set up in pre-existing buildings, like office blocks or empty shops. That's what has happened in Sweden, where 'free schools' have been a huge success. It bodes ill that the government has fallen behind schedule, so let's hope they can get things back on track quickly.
---