Haiti one year later: known be their collective name
(Read article summary)
What stands in the way of rebuilding Haiti?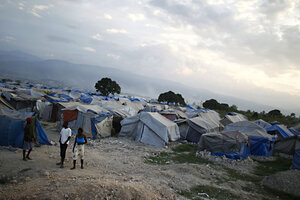 Jorge Silva / Reuters
One year ago today a major earthquake devastated Haiti's capital city of Port-au-Prince. One year ago and one million people remain homeless, with less than 5 percent of the debris cleared from city streets. One year ago today.
Why the lack of meaningful progress with rebuilding efforts? Before you draw any conclusion, let me provide some on-the-ground observations of rebuilding efforts following a similar, though less destructive, natural disaster — Jamaica after Hurricane Gilbert in 1988.
In the early 1990′s I served in Jamaica with the US Peace Corps (forgive me). I arrived in-country four years after Gilbert stuck, yet the island was still ravaged by its wind and water. While the rubble was gone from the streets, the force of the hurricane was still evident.
Now the Jamaica of the early 1990′s had a lot to offer: warm weather, abundant food, and an underutilized workforce. It also had apparent profit potential. But there was little investment. Why were foreign investments not flowing to Jamaica – investments that would have led to a quick rebuilding?
Crime? I became friends with a few enterprising individuals (both Jamaican and foreign) who were working to make a go with their own small businesses. None expressed concerns over the endemic petty crime. Security services and insurance could be purchased to protect investments from minor theft. But not major theft: the various types of theft from government officials, as well as the more violent theft from government-protected gangs — the Jamaican posses.
The tariff and official exchange rate were punitive, especially for those trying to rebuild. As an example, I lived in a cottage in a private, walled compound. Before Gilbert, the owner of the compound had a relatively new, working washer and dryer, which were available to his guests. Gilbert left the machines flooded and useless. While the property owner had the money to replace both washer and dryer at the current US price, he could not afford the tariff that tripled his cost. So the shared laundry closet housed the hulks of two rusted machines.
---