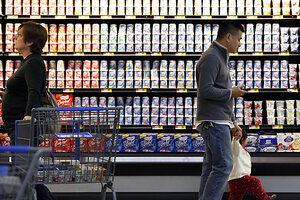 Matt Rourke / AP / File
Vitaminwater has been declared to be 'not nutritious' by a British Advertising Czar.
The Advertising Standards Authority said Coca-Cola broke ad rules when it described its popular line of flavored water products as "delicious and nutritious" in an ad last summer, explaining that consumers wouldn't expect a drink marketed as nutritious to have between four and five teaspoons of added sugar.
It is amazing that we live in a world where bureaucrats, whose interests are not aligned with the interests of the consumers, are given the power to make the decisions about our lifestyles and food product choices. They not only purport to protect us from ourselves, but they protect us from advertising they deem to be out of alignment with their interests.
What is even more stupefying is how government, especially the U.S. government, has managed to coerce consumer food choices with its collaboration with the very powerful Big Agra-Big Food establishment that is enabled by agricultural subsidies, FDA policy, the medical establishment, and the congressional complex that assigns and directs the privileges and power. These companies – such as Monsanto, Archer Daniels Midland, Coca-Cola Co., PepsiCo, Tyson, ConAgra, Cargill – rely on government decrees to gain acceptance, markets, and exclusivity for their products. Vitaminwater is owned by the very powerful Coca-Cola Co. As per the usual, the company relies on catchwords such as "natural," "healthy," "vitamins," etc. to win over ignorant consumers who make no effort to understand the simple truth on the other side of the bottle. Here are the ingredients for Vitaminwater (one flavor).
---