Prices are rising with the money supply
(Read article summary)
As prices start to rise, don't forget about all the money that the Fed created out of thin air.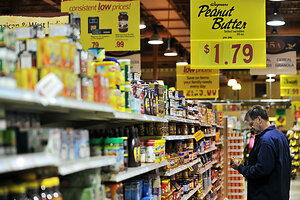 Jewel Samad/AFP/Getty Images/Newscom
I'm pleased that we have run Frank Shostak's piece this morning on inflation data, and it's pretty alarming but it strikes me that the piece still understates the threat and the reality.
This morning at the store, a fruit drink I usually buy just went from $2.50 to $3.20 in something like two weeks. The apples I bought seem to have jumped 25%. The checkout lady confirmed soaring prices in isle after isle, and I noted that customers in front and behind me were scrambling for coupons and muttering about price hikes. We've already known that producers have been repackaging and shrinking their products for 12 months: this is always the first step before price increases. But this only works so long. Finally, the inevitable can't be put off any longer.
CNBC reported yesterday that at a food industry conference, major suppliers were talking about increases of 4 and 5 percent on top of increases at the same level only last month. Past data already show crazy price increases on things like butter (20% YTD), lamb (18.9% YTD), bacon (11.3% YTD), and even potatoes (6% YTD). The explanation is always the same: weather plus rising demand.
---