Loosen the laws, let teens work
(Read article summary)
When teenagers don't work, they miss out on an important part of growing up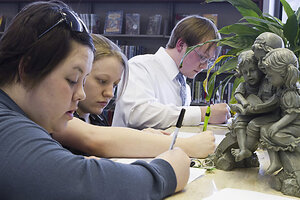 Nati Harnik / AP
Old folks are working and teenagers are laying around doing nothing. It didn't used to be this way. Kids used to find a job as soon as they had the desire for two very important things: get out of the house and get money in their hands.
Finding part-time work was a snap. The locally-owned burger shack always needed help, there were plenty of lawns to be mowed, and babies to be watched. But now government makes it tough to employ someone under eighteen and taking a chance on an unproven teenager is expensive. There's a high national minimum wage and some states set minimum pay even higher than that.
Of course pay is just part of the cost of an employee. There's FICA and Social Security and local employment taxes and so on. Plus, following the corporate-mandated firing procedures so the employer doesn't end up in court for sacking someone, is another burden. So the manager for the local franchisee of Arby's or McDonald's is more likely to hire the 66-year old from down the street, rather than the 16-year old.
Mr. or Ms. Manager has a job to protect and mortgage to pay, so Mr. Jones with a 40-year track record of showing up on time and really needing to supplement his Social Security check is a surer, safer bet than Danny Jones, who, while seeming bright and enthusiastic, has never held a job and has classes and band to schedule around. Who knows if Danny Boy will stick around?
This dynamic has been at work for a decade. Back in 2000, 34 percent of boys in their mid-teens worked, while 29 percent of senior men were employed, the Wall Street Journal reports. In 2010, fewer than 15 percent of 16 to 17 year old boys were employed, while 34 percent of men aged 60 to 69 were holding down a job.
---