Is insider trading really a crime?
(Read article summary)
Insider trading is in the spotlight again, following Raj Rajaratnam's conviction last week. Is the government crackdown on insider trading an interference with beneficial economic activity?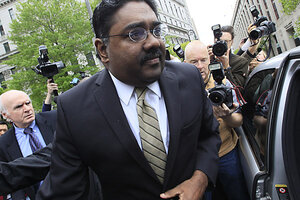 Mary Altaffer / AP
A major piece of financial news last week was billionaire Raj Rajaratnam's conviction on 14 counts of securities fraud and conspiracy. Rajaratnam, founder of the hedge fund Galleon Group, was worth an estimated $1.8 billion in 2009. His conviction has pleased those who want the feds to crack down on "insider trading" and show the fat cats on Wall Street that they aren't above the rules.
Although the public generally loves the fall of a ruthless and greedy financial titan — this, of course, is what made Oliver Stone's original Wall Street such a hit — economists have argued for decades that the practice of "insider trading" can actually be beneficial. In practice, the government can use the amorphous "crime" to go after any successful trader it wants. In a free society, there would be no such thing as laws against so-called insider trading.
The Facts of the Case
To argue that "insider trading" is a bogus offense, and that laws against it only give the government the power to interfere with economically beneficial activity, is not to suggest that Rajaratnam was an innocent babe in the woods. Indeed, some of the episodes being used to shock the general public would probably also be criminal in a genuinely free market.
---