Do we really need a minimum wage?
(Read article summary)
If minimum wage were eliminated, the only jobs that would be affected would be ones that overpay unskilled workers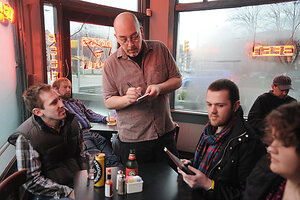 Joe Vitti / The Indianapolis Star / AP
I recently watched the first episode of 30 Days, Morgan Spurlock's series about changing a person's lifestyle for 30 days in order to widen their perspective on the world. In this episode, Spurlock and his fiancée spent 30 days trying to survive on minimum-wage salaries — and they make blatant errors in judgment when it comes to their personal finance decisions (spending $80 when his nephew and niece came to visit for a day, for example).
More importantly, Spurlock uses the episode to advocate increasing the minimum wage. This article is meant to address the gaping holes in Spurlock's arguments as well as the problems in the arguments that I often hear when I explain how unnecessary our minimum-wage laws are.
I'll condense these arguments into three categories:
that collusion among companies would drive wage rates to near zero;
that eliminating minimum wage would cause salaries across the board to drop; and
that citizens should not be compensated so poorly.
Each of these arguments may appear valid on the surface, but they all have fatal flaws.
Before delving into the debate, it may be helpful to understand a little of the history behind minimum wages. In the United States today, minimum-wage regulations are covered under the Fair Labor Standards Act of 1938 (FLSA). But 1938 was not the first time a minimum wage was accepted into law.
Twenty years earlier, Congress established a minimum-wage law specifically for women, requiring that they be paid at least $71.50 per month (25¢/hour). That law was overturned in the Supreme Court case Adkins vs. Children's Hospital, on the grounds that it restricted a worker's right to negotiate her own labor contract. If, for example, a woman wanted to increase her chance of being employed by offering her talents for $68.50 per month, the law made it illegal for her to do so.
---