Should we change the way we teach economics?
(Read article summary)
Because of the recent financial crisis, teaching the basic principles of economics is harder than ever.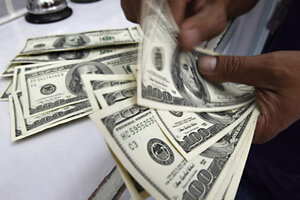 Romeo Ranoco/Reuters/File
The New York Times opinion page recently ran a series of short pieces on Rethinking How We Teach Economics, making the point that we need to change our economics instruction to be able to account for the financial crisis. There are several articles in the "debate," but I would like to consider Alan Blinder's contribution. In addition to being a Princeton economist, Blinder was on President Clinton's Council of Economic Advisors and he was also a member of the Board of Governors of the Federal Reserve, so his take on this is not surprising.
Blinder argues that we must change the way we teach economics. In his words,
We must now teach students how we got into the mess of the last five years and how we got partially out. For that reason, teaching elementary economics just got harder. Our teaching about monetary policy must be completely revamped. Specifically, students must now learn something about "unconventional" monetary policies.
And,
---