Gold buyer: Don't worry, be happy
(Read article summary)
Gold prices rise and rise. Some buy gold to protect against inflation, but many fear that something will go wrong, in China or Greece or Ireland or the U.S. housing market, or...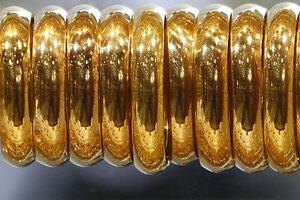 Muhammad Hamed / Reuters / File
What a beautiful city! We're talking about London. It was all dressed up for Christmas last night. And we got to see quite a bit of it. Student protestors blocked the streets around Trafalgar Square…and there was so much snow and ice…taxis must have stayed home. We walked from Mayfair to Southwark, using one of the pedestrian bridges to get over the river.
It was snowing – large flakes floated down and settled on the sidewalks. There were Christmas trees and toys in the shop windows…along with the usual fashions, paintings and jewelry. People gathered in warm pubs and cafes to escape the cold; they looked so inviting, we wanted to stop in each one and have a drink. The Royal Festival Hall was brightly lit up…as were all the major buildings along the Thames.
We've never seen it so lovely. Too bad we're leaving town this morning…on our way to Mumbai (aka Bombay.)
Uh oh… What's this? Gatwick Airport is closed. Our flight is delayed. Well…more time to reckon!
But what are we reckoning with…oh yes…money. Alas, the world of money looks much less attractive than the world outside our snow-bound window. In fact, it is downright ugly.
The stock market seems to be rolling over. Yesterday, the Dow fell 46 points, not enough to make much of a difference.
Gold rose $18.
---