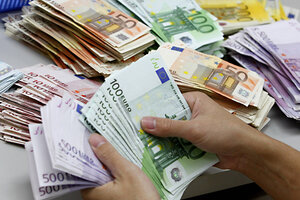 Sukree Sukplang / Reuters / File
Let's look at how the European debt situation developed.
When Europe brought out the euro in 2002, it changed everything. All of a sudden, you could lend money to Ireland or Greece without having to worry about the Irish pound or the Greek drachma. They were all using the euro, which was managed by the Germans. So why not lend to one of these peripheral states of Europe and earn a little more interest?
Things began to change fast. Interest rates in Spain and Ireland dropped. People started buying houses. Builders began putting them up all over the place. Prices were going up. It was similar to what happened in the US, but amplified. Ireland, for example, had always been a relatively poor country. But by 2007, rising house prices had turned the Irish – on paper – into the richest people in Europe.
Bust follows boom. Always has. Always will. And when the bust came to Europe, its banks were holding a remarkable amount of mortgage debt. The trouble was, debtors didn't have enough income to pay it. In a panic, investors dumped bank stocks…figuring the banks would go bankrupt.
But in stepped governments. They tried to halt the correction. They gave guarantees. They made commitments. The told the world that they would make sure senior lenders got their money. But how? The governments were deeply in debt themselves. But that didn't stop them. They went ahead – to varying degrees – and guaranteed bank debt.
And so here we are. Ireland guarantees its bankers' debt. Europe guarantees Ireland's debt. And who guarantees Europe's debt?
And why do they bother?
Why not just let the speculators take their losses?
---