BRICS growing in stature
(Read article summary)
The BRIC countries, Brazil, Russia, India, and China, added a new member, South Africa. The combined economies of the five countries are set to surpass the US economy by 2014.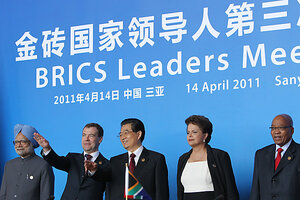 How Hwee Young / AP
A couple of years ago, when we offered a BRIC MarketSafe CD… I would talk to groups of people, and warn them that the BRICs not only hold the reserves of the world, but have a large percentage of the world's population, and they would love nothing more than to be looked at as the "leaders of the world"… OK… There's a BRIC Conference going on, so let's see what's on their minds…
But first, let's look at the markets – specifically those of currencies and metals… Well, that bias to sell dollars that I talked about yesterday didn't last too long into the morning, and by noon, the currencies were weaker. Gold and silver remained bid, but not well bid, as they had been in the early morning. In the overnight markets, the currencies have been all over the place… The trading ranges have been blown out, and one minute you see the currencies rally, and the next you see them sell off… It's been pretty amazing watching this since I arrived here and climbed into the saddle this morning.
And… We got to see the color of the president's plan to cut the deficit… The president unveiled a framework Wednesday to reduce borrowing over the next 12 years by $4 trillion – a goal that falls short of targets set by his deficit commission and House Republicans – and called for a new congressional commission to help develop a plan to get there.
In his most ambitious effort to claim the mantle of deficit cutter, Obama proposed sharp new cuts to domestic and military spending, and an overhaul of the tax code that would raise fresh revenue. But he steered clear of fundamental changes to Medicare, Medicaid and Social Security – the primary drivers of future spending.
---