Gold rises as US interest rates stay down
(Read article summary)
Gold rises, along with the euro and Australian dollar, after the S&P downgraded its outlook on the US. Gold rises above $1,500 and silver is trading above $44.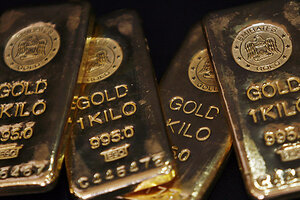 Arko Datta / Reuters / File
Front and center this morning we have a currency and commodity rally going on for the ages! But first… Today is also my long time, good friend, and the Big Boss' birthday! Yes… Happy Birthday, Frank Trotter! YAHOO!
OK… The currency and commodity rally for the ages… It's as if the overnight markets guys and gals had the light bulb go on over their collective heads, and inside the light bulb was this thought… "Interest rates around the world are going up, but staying down in the US and S&P just downgraded the US's outlook to negative, so why are we holding dollars?"… The rest is history as they say, with the euro (EUR) rallying to 1.45, the Aussie dollar (AUD) to $1.0650, and gold at $1,505…
It's pretty amazing once the markets figure out something, it's like they're playing poker, and decide to "go all in"… For all the time before they finally figure something out, they hem and haw around giving this reason or that reason for supporting a sinking asset… In this case it's the dollar… Look, I don't want this to happen, but, the writing has been on the wall for some time now, and I said it would happen, so there you go!
---