Silver prices rising, and a shortage of 'the other white rock' looms
(Read article summary)
Silver prices have been surging recently. But even as silver prices climb, another white rock, phosphate, is becoming increasingly precious.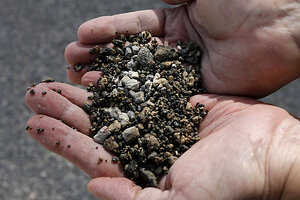 s70/s70/ZUMA Press/Newscom/File
The silver market has been on a tear, no doubt about it. The price of this shiny white rock has soared 50% in 2011, alone. There's good reason for this huge move (Hint: His name is Ben Bernanke). But I want to tell you about a different white rock – one that's also quite precious.
The rock is called phosphate.
There is no substitute for it. It is crucial to the world's food supply, for which it serves as a fertilizer. And most of the world's mines are in decline. Foreign Policy magazine recently called it "the gravest resource shortage you've never heard of."
Demand for the rock is growing as demand for food rises. As I write, food prices are surging. Wheat is up 110% over the last 12 months. Corn is up 87%; soybeans, 59%; and sugar, 22%. Soaring food prices helped set off protests in Tunisia and Egypt, toppling regimes and threatening to spread similar uprisings to other poor countries in the region.
There is no quick remedy. Many of the trends that created today's situation have been long in the making. The world population continues to grow. The amount of arable land per person continues to fall. Gains in crop yields have slowed. And more people around the world are eating a more calorie-rich diet. Prosperity in China, India, Brazil and other places have added millions of middle-class consumers eating more meat and processed foods. Plus, let's not forget biofuels, which place energy and food in direct competition.
---