In Asia, incomes rise with prices, but in America, no such luck
(Read article summary)
It's hard to get in the spirit of the 'economic recovery' when America is still dealing with so many financial woes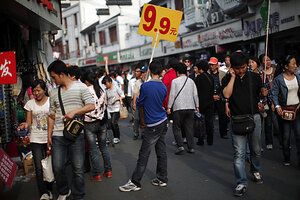 Carlos Barria / Reuters / File
We're staying at the Peace Hotel in Shanghai. It's a beautiful art-deco building right on the Bund. We left the hotel last night and had dinner a few blocks north of here. When we saw Shanghai's skyline, across the river…it took our breath away.
"This must be a city of the future," said Jules. "You kind of expect a flying car to appear – like on The Jetsons."
Everything is lit up – including the boats going up and down the river.
In comparison, Paris is dull and predictable. New York is boring and worn-out. The view along the river reminded us most of London. It lights up its buildings. You get the same sort of view across the river. And London has some strikingly new and exciting buildings too.
But compared to Shanghai, London is small…and slow-moving. It is in the 'old world.' This seems like the new world.
Shanghai is not cheap. Dinner for a group of six, at a not-too-fancy joint on the Bund set us back $900. The hotel room is about $300 a night. And property? We've heard conflicting reports. It was recently the hottest city in the hottest economy in the world. The government has tried to calm the property market in China – with some success. Sales fell some 70% from the beginning of 2010 to the end of it. Prices dropped 30%.
And now?
"That's the thing about China," said a Dear Reader who joined us for a drink on Saturday night. "When you live in the US or in the UK you might think you know what is going on…but when you live here in China, you realize that you have no idea."
---