Traveling at the speed of China
(Read article summary)
China's rising fast. How soon will it take the lead in global wealth and innovation?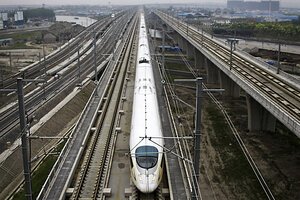 AP
Last night…
We're racing to the airport at Pudong. We don't know why we are racing; there is plenty of time. But the driver seems to want to set a new land speed record for a taxicab.
He's rocketing along at 100 mph. The cab weaves flawlessly through the traffic.
But what's this? The cab driver has taken both hands off the wheel. He is putting in a CD. Moments later…what da…?
Country road, take me home, to the place, I belong…
West Virginia, mountain mamma, take me home…
This is no country road. It is about the most modern highway we have ever been on. Flyways…flyovers…bridges…elevated highways…we have just gone over the river on a bridge that looks like it was built yesterday. Now, we are cruising along through the smog in 8 lanes of traffic.
Over on the left, a ghost city is barely visible through the gray haze. It must have dozens…no hundreds…of office and apartment towers. There is a huge parking lot on the left…and then, in the distance…another city. We see only the shapes. But it is a city as big as Bethesda…no, as big as Baltimore….
We continue our Taxicab 500…passing cars on the left…then on the right…and then, right through the middle… slipping through a narrow space with cars and trucks on both sides.
Again on the left is another of these spectral cities… Is it Cleveland? Is it San Diego? In size, it could be either. We left downtown Shanghai a half an hour ago. But we are still passing through towns…industrial parks…and building projects. There must be a dozen cities the size of Baltimore between the center of Shanghai and the airport.
---