Summer forecast: weak stocks and a big sell-off. Then QE3?
(Read article summary)
Stocks are falling and gold is rising. Is quantitative easing really helping the US recover?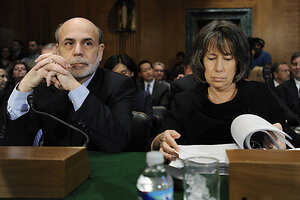 Jonathan Ernst / Reuters
Look at what happened on Friday. The Dow dropped 93 points. Oil stayed below $100. But gold added $16 to close well above $1,500.
Fluke? Or trend?
Hey, you're asking the wrong person. What do we know? No one knows.
But what we do know is that the Great Correction is continuing to do its work. All the recent reports tell us that the economy is weak…and weakening. Housing starts, manufacturing output, consumer confidence – all are pointing to a long, hot, sultry, sluggish summer.
So far, the big sell-off has not even begun. But it could start any day. Maybe Friday's numbers reflected the new trend. Maybe not.
But just so we get to say 'I told you so' here is what we expect:
1) Stocks will be weak…maybe a big sell-off in the summer months. Investors will begin to realize that the economy is not as healthy as they thought. And the effects of QE2 will wear off.

2) The Great Correction, combined with the feds' battle against it, will continue. Economic reports will be mixed and confusing as a result. But no clear, real recovery will begin.

3) The Fed will announce new measures – QE3. These could come anytime, but will most likely follow a new crisis. For example, a default by Greece…or a sharp break in the stock market.
---